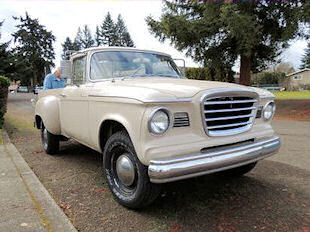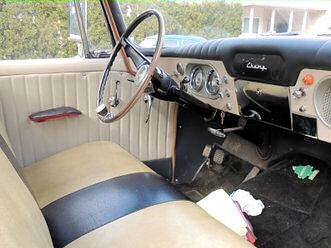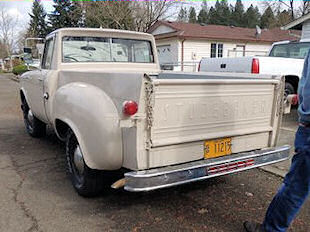 February 25, 2013
My wife Jo Anne and I went out and bought a nice 1961 Champ truck we saw on Craigslist. Some of our members will probably remember seeing it there. Now I'll have to turn around and sell the Lark I just bought. Here are a few photos of the newest member of the family (and club). I will look into listing the Lark in our Newsletter.
The seller is including a 259 short block which I cannot use and do not have the room to store. I would be willing to give this to anyone in the club who could use it. No charge. If you are interested, e-mail me at edsallia [at] frontier.com, or call me on my cell phone at 503-318-1787.
December 12, 2012
At the Christmas party on Sunday, I was driving a new car. I bought Dave Andress' 1962 Lark 4-door sedan. I put new tires on it, and the following work was done: All new brake shoes and wheel cylinders, new muffler, new rear main seal, new pan gasket, new lifter cover gaskets, carburetor adjustment, and new rubber door seals. The car ran great, and I will be using it as a daily driver!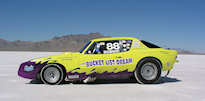 October 12, 2012
My brother, Dan, sold the Burke Avanti to a father-daughter race team in North Carolina. Dan says as part of the deal he will be driving it again at next year's Speed Week in August at the Bonneville Salt Flats. The goal is once again to break into the 200 mile per hour club. I'll provide updates as they become available.
Ed Sallia
This page updated 3 March 2013





Top of Page