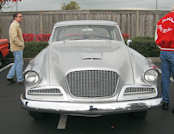 This tour has become a chapter tradition; Phil Gaffney has been leading it for about twelve years. Last year, he didn't feel well, so he had to bail. But we're glad he made a comeback this year.
The morning of the tour, it was drizzling. But Phil has had remarkably good luck with weather over the years. Although the sun never put in much of an appearance, we didn't get wet either.
Driving the tour were:

Phil & Alexis Gaffney,
Tour leaders
Red 1950 Commander
John Berg
Two-tone blue 1962 GT Hawk
John Bernhardt and
Scott Weemhoff
Red 1960 Hawk
Bert Boehm & Richard Glenn
Seafoam green 1963 Champ pickup
Mick & Ruth DeSantis
Silver-colored 1958 Hawk
Murl Jones
White 1964 Commander
Bruce & Sue Kerslake
Rosewood 1962 Lark wagon
Dave & Sheila Muck
Red 1963 GT Hawk
Phil & Jane Peters
Siena Red 1965 Daytona
Keith & Kathy Reno
Silver 1982 Avanti II
Ed Sallia
Teal 1950 Commander
Phil Saunders
Two-tone blue 1955 President
Dana Scott, and his
daughter Frances
Seafoam green 1962 Cruiser
Charlie & Anna Tubens
Fall Pumpkin Latté 1966 Commander
(Color name by Charlie Tubens)
Bob & Carolyn Williams
Rose Mist 1963 Cruiser
Tom Hart
Brand S

TOTALS: 27 people, 15 Studebakers, and 1 Brand X

Some other traditions of this tour are wearing Halloween costumes, taking a picture of the Gaffneys' red bullet-nose next to a red sumac bush, and getting pumpkin lattés at our meeting place, the Hillsboro Fred Meyer store. I wore my bumblebee outfit, as Keith Reno called it. And in this year's photo, Phil's bullet-nose was joined by Dana Scott's Lark, Dana himself, and his daughter Frances, with a big beautiful smile.
Also with us were a couple of new members, Mick & Ruth DeSantis, whom Bruce knew through the Plymouth Club. They have recently bought a 1958 Hawk, and they also brought some delicious brownies to share.
As scheduled, we departed at about noon, heading west on Hwy. 26. After getting out into the hills, we turned left onto Timber Rd. A few miles farther, we crossed a bridge and entered the old hamlet of Timber. Visiting this village is like taking a trip back in time. All the ancient wooden buildings seem to be clinging to the hillside, with nary a flat spot in sight, except for the railroad tracks. And there were lots of majestic yellow bigleaf maples, just to make sure we got enough fall colors.
Down, down we drove, into a curvy canyon, and finally out to Hwy. 6, then Hwy. 8, then to the village of Gales Creek, and the Gaffneys' house. Phil & Alexis' daughter Sarah greeted us with cups of hot cider. She had very kindly come out to help, including sautéeing some colorful bell peppers and onions, which tasted wonderful on the hot dogs.
Two drivers had had some mechanical problems. John Bernhardt's Hawk's wipers wouldn't shut off. One of the ears and the bracket on Murl Jones' Commander's alternator broke. Phil Gaffney gave Murl a clamp to hold his alternator together, and he made it home all right.
The Gaffneys' beagle Peabody was in fine form, barking at Sheila Muck's tiny dog Molly. While Alexis held Peabody back, poor little Molly got stung on the face by a yellow jacket. Yes, the yellow jackets were also in fine form, and at least one human got stung, as well.
A little later, Phil gave a tour of his garage and barns. He has sold about half of his car collection, a better job than most of us have done. He still has two 1920s-era Studeys, his "root beer float" (a brown and white Hawk), an M-series truck, a working vintage tractor, and of course, the red 1951 Commander that he drove on the tour.
The Gaffneys' acreage is perfect for a Studebaker lineup. No ugly parking lot stripes, stores or modern cars. Just a beautiful backdrop of grassy fields, trees and sky. And plenty of gopher holes to trip up those with wobbly ankles. As things were winding down, a drizzle started. That sent people scurrying to finish packing up!
-- Sue Kerslake