This year's event was looking as a repeat of 2016 with cool wet weather but as it turned out Saturday was a very pleasant day with temperatures in the mid 70's. We had 75 car entries and were able to collect 100+ lbs. of canned food for the Oregon Food Bank. Our efforts resulted in a net income of around $750.

The AMC group joined us again this year and they were very helpful in providing some volunteers to help run the show. This year's judging was again done mostly by a 4 person panel lead by Chuck Tubens in an effort to speed up the tallying process. Only Best of Show, Best Survivor and Best AMC were participants choice. As has been done in the past years, 1st place was awarded with a photo of the winning car in the frame, 2nd place was awarded with just the photo of last years winners and 3rd place was an honorable mention. Most year classes were well represented with the 1960-64 being the biggest and the 1940-49 the least with just 1 car.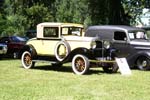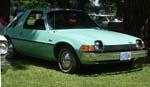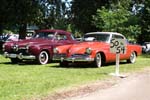 A good cross section of orphan marques were represented with numerous Hudson's, Edsel's, Plymouth's, Triumph's and AMC's being the most in number after the Studebakers.
As we have done in the past, the winners were assembled after the awards ceremony for a photo shoot for the flyer for next year. This group reflected a good cross section of orphan cars.
Our annual event Best of Show was won by a gentlemen from Eugene who brought his 1929 Whippet. He was gracious enough to give back to our club the $50 cash prize for this award.
Thank you all for helping put on this event and for attending.