The 10th year of our Orphan Car Meet at Clackamette Park, was held on Saturday, June 16. This year we slimmed down the program to reduce the volunteer work load by having just one award for Best of Show. Classes, photographs and numerous awards were deleted which enabled us to lower the entry fee to a reasonable $10 per car. Thus the name was changed to Show and Shine.
The weather was very agreeable this year with low 70's and no sign of rain.
An attendance of nearly 80 cars included a wide variety of marques which made for an interesting show. The AMC group again joined us and they were able to conduct their own show within a show. The other car club that is also an important presence was the Plymouth Club, which was out in force this year.
Our Best of Show Award of $50 went to Tom Shepard with his very nice turquoise and white 1956 Plymouth. Runner up was a 1964 Commander owned by Bob and Sherry Meyer.
I want to personally thank all the volunteers who have helped make this a successful show over the last decade. This venue is one of the very few that showcases the orphan class of cars, and is one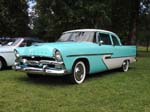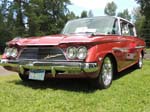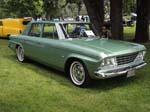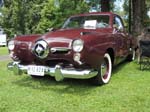 reason the show was able to attract a good attendance year after year. The other reason was the hard work put in by so many in our Studebaker Drivers' Club.
However, like in all things, change happens and this change will be for the better. Due to escalating volunteer needs and costs, our orphan show will be combined with the Plymouth Hot Dog-Ust Day show next year. Their show has been annually held at the Clackamas Community College Campus in August. This show is open to all classes of cars with proceeds benefiting CPPC's scholarship fund at the college, and for the last time this year will be held on August 11.
In 2019, their venue and date will be changed to combine with the Studebakers Orphan Show on June 15, at Clackamette Park. This will allow us to continue to have a venue for the Studebakers (and other orphan marques) while also allowing for the added benefits of a larger show which will include food, awards, raffles, etc. and a larger pool of volunteers.
Stay tuned for further information and details as this combined show evolves for 2019!
Follow this link to see a gallery of Ed Sallia's pictures.
This year's event was looking as a repeat of 2016 with cool wet weather but as it turned out Saturday was a very pleasant day with temperatures in the mid 70's. We had 75 car entries and were able to collect 100+ lbs. of canned food for the Oregon Food Bank. Our efforts resulted in a net income of around $750.

The AMC group joined us again this year and they were very helpful in providing some volunteers to help run the show. This year's judging was again done mostly by a 4 person panel lead by Chuck Tubens in an effort to speed up the tallying process. Only Best of Show, Best Survivor and Best AMC were participants choice. As has been done in the past years, 1st place was awarded with a photo of the winning car in the frame, 2nd place was awarded with just the photo of last years winners and 3rd place was an honorable mention. Most year classes were well represented with the 1960-64 being the biggest and the 1940-49 the least with just 1 car.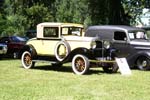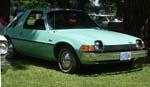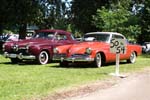 A good cross section of orphan marques were represented with numerous Hudson's, Edsel's, Plymouth's, Triumph's and AMC's being the most in number after the Studebakers.
As we have done in the past, the winners were assembled after the awards ceremony for a photo shoot for the flyer for next year. This group reflected a good cross section of orphan cars.
Our annual event Best of Show was won by a gentlemen from Eugene who brought his 1929 Whippet. He was gracious enough to give back to our club the $50 cash prize for this award.
Thank you all for helping put on this event and for attending.